SPONSORED STATEMENT BY TEUVAN DEFENCE
Teuvan Defence Mobile Kitchens are known for their reliability and an 80 year track record of operation in demanding field conditions and extreme environments. Our product range includes a wide variety of field kitchens and compact cooking equipment for modern military forces tasked with varying roles and missions in a changing World.


FIELD KITCHEN - FK2000
Trailer mounted versatile field kitchen system with innovative cooking capabilities, blackout and camouflage features – highly mobile for short notice embarkation.


Modular construction permits the FK2000 to be equipped with a wide variety of cooking equipment. This kitchen can feed four basic meals per day to as many as 500 persons or more complex meals four times per day to as many as 250 persons – as many as 2000 meals per day - suitable for Battalion sized units or relief operations.


The FK2000 is a highly mobile self-contained system ideal for Rapid Deployment Forces. The kitchen can be towed by any vehicle, due to light weight and a height adjustable tow bar. The kitchen may also be delivered by aircraft.


True Multi-fuel capability, including Diesel/LFO, LPG, and Aviation Fuels with a specially engineered fuel system for continuous operation in all environments. The kitchen may also be easily adapted to operate on locally available solid fuels.
ULTRA LIGHT FIELD KITCHEN - LFK150
This Ultra Light Trailer Kitchen is economical but with many of the same features as the larger FK2000 while being small enough to go anywhere to feed Company sized units. This kitchen can produce four meals per day for up to 300 persons – 1200 meals per day. The LFK150 may be rotated into a vertical position to maximize loading in aircraft or other vessels. Standard configuration is one 150 liter double walled cooking kettle and two 20 liter water heaters. Fuel choices and burner operation is the same as the FK2000.


Improvements have been made to the new "L" model to enable multirole usage. The LFK150L has a height adjustable tow bar with interchangeable tow connectors to allow towing with any vehicle. Electrical generators or other equipment may now be mounted to the chassis. Optional modules allow flexible configuration. Other options include a transport cover, collapsible shelter structure, stowable work table, and special configurations to meet specific requirements.
COMPACT FIELD COOKERS - FC75 and FC30
These compact cookers of 75 liter and 30 liter capacity are easily prepared for embarkation, transportation, set-up, and operation in forward areas. These cookers are designed for easy and reliable operation with minimal maintenance and
can be equipped to operate with various fuels including Diesel/LFO, Aviation Fuels, and LPG, as well as locally available solid fuels.

The special liquid filled double walled cooking kettle ensures even heat distribution during cooking and prevents scorching
of foods.

From Raw Foods, the FC75 produces basic meals for 150 persons, four times per day, while the FC30 produces 60 meals four times per day. Both FC cookers can also serve as efficient water heaters. A wide choice of accessories are available for the cookers including steaming baskets, frying pans, wok, griddle plate and other options.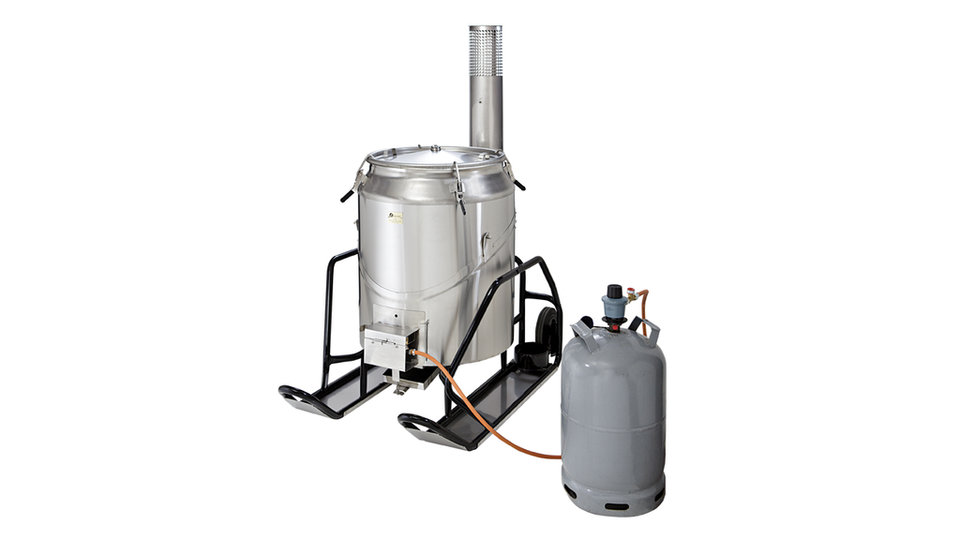 Mobile Kitchens For Rapid Deployment
In All Environments