With plans to double its armed drone fleet and the ambition to fly MALE (Medium Altitude Long Endurance) Remotely Piloted Air Systems (RPAS) in UK non-segregated airspace for the very first time, the UK's Royal Air Force (RAF) is embarking on a new era in its use of unmanned weapon and surveillance systems.


Up until now, counter-terror operations in Afghanistan, and latterly against Daesh (ISIS) in Syria and Iraq, have largely shaped the RAF's RPAS requirements. In December 2017, the RAF notched up 100,000 hours of flying the Reaper MQ-9A in support of Coalition combat operations. Most of the operations for the Reaper were a combination of surveillance (more than 160,000 hours of flying in Afghanistan involved non-armed reconnaissance) and ground-attack operations. Reaper was scheduled to go out of service in 2015, but it is still being flown by the RAF as part of Operation Shader against Daesh.
Reaper's replacement, the Protector RG Mk1, is a variant of General Atomics Aeronautical Systems' (GA-ASI) MQ-9B SkyGuardian. The Protector was initially scheduled to enter service with the RAF in 2018, but its entry date was put back to 2021. Recent reports suggest that full operational capability is not expected now until mid−2024. The 2015 Strategic Defence and Security Review stated that the UK would procure more than 20 Protector RPAS as part of a Foreign Military Sales contract with the US Department of Defense. But so far, only 16 have been ordered at a reported cost of $1 billion, with the option to procure a further 16.
The RAF plan to use the Protector not only for traditional ISR and counter-terror operations abroad, but also at home, including providing military aid to civilian authorities, hence the requirement for it to be certified to fly in UK civilian airspace. The latter is a major step change for the UK's RAF and for any military force looking to operate MALE RPAS in non-segregated airspace.

Previously, these aircraft had to be flown from remote bases and in theatres of operation under military airspace control. However, Protector will be certified to comply with both national and international airspace and safety regulations. The RAF's Protector Combined Test Team says this will enable the aircraft to operate in a wide variety of environments and locations, including support of humanitarian-relief operations.
OPERATING IN NON-SEGREGATED AIRSPACE
In the UK, the Military Aviation Authority (MAA) is responsible for certifying the Protector. GA-ASI says it has an agreed Type Certification Basis that defines the criteria that the system must meet along with how the MAA accepts compliance to the certification standards across all areas of the system. Certification applies to the MQ-9B system, which includes the aircraft, Ground Control Station, as well as the DAA capability.


King says the Protector is on track for certification by the UK MAA in the early 2020s. Documents outlining early discussions between the UK's Civil Aviation Authority (CAA) and the UK Ministry of Defence (MoD), dating back to 2016, which were published by Drone Wars, a UK NGO that is against the use of armed drones, highlight some of the potential challenges of integrating the Protector into UK civilian airspace. The documents, which formed part of a Protector Air Integration Workshop, talked about "initial operation through class A–C, and eventual access to A–G airspace in the UK." They also highlighted the challenges "of operating in non-segregated airspace in the UK" and how that differed from operating in US national airspace.
One company that has considerable experience in integrating unmanned systems into non-segregated airspace is BAE Systems, which was selected by GA-ASI to support the development of Concepts of Operations for Protector in UK national airspace. BAE was involved in the Autonomous Systems Technology Related Airborne Evaluation and Assessment (ASTRAEA) programme back in 2010, which used a Jetstream 31 "testbed aircraft" to test and develop technologies for integrating unmanned technologies safely into UK civilian airspace.
It also has experience of testing unmanned demonstrator platforms like the Mantis and Taranis unmanned combat aerial vehicle. BAE says it will "use its military aircraft expertise, as well as its relationship with UK and EU regulatory authorities to support the integration of Protector … into UK airspace."
GREATER MISSION FLEXIBILITY
GA-ASI says the MQ-9B, which is the basis for the Protector variant, leverages the mature architecture and more than two million flight hours of the legacy MQ-9A, while incorporating enhancements that will enable it to meet a diverse range of mission requirements. "The MQ-9B offers even greater flexibility with more payload capacity, all-weather/lightning capability, a Detect and Avoid (DAA) system and certification to operate in non-segregated airspace," says Dr. Jonny King, vice president of General Atomics Aeronautical Systems UK.
With the goal to "achieve unfettered access to international and national airspace," the MQ-9B has various built-in design features — an all-weather capability; composite materials that extend its service life — designed to ensure compliance with NATO STANAG 4671 and DEFSTAN 00-970 certification standards. The DAA system is part of GA-ASI's solution for safe integration of the MQ-9B with other air traffic. It has already undergone initial testing on MQ-9 aircraft operated by NASA and the US Department of Homeland Security/Customs and Border Protection, as well as the GA-ASI SkyGuardian development aircraft.
In 2018, the US Federal Aviation Authority approved the flight of NASA's DAA-equipped Ikhana MQ-9 into non-segregated civil airspace without a chase plane. However, the company is seeking separate certification from other national airworthiness authorities.


Beyond traditional ground attack and ISR missions, the MQ-9B also offers expanding mission sets such as an Anti-Submarine Warfare (ASW) capability. In 2017, GA-ASI says that it successfully tested the MQ-9B's ability to remotely monitor and acoustically process sonobuoys. Since then, the company has internally funded development for the platform to carry and deploy sonobuoys with full flight testing of the ASW capability planned for 2020.
The MQ-9B will carry and dispense sonobuoys from pods under the wing. King says up to 40 A-size or 80 G-size sonobuoys can be carried across four pods. Ultra Electronics Command & Sonar Systems has been named as the supplier for 'minituarised' sonobuoys for a possible maritime configured Protector, which is being discussed by the Royal Navy.


The MQ-9B has significantly greater endurance (more than 40 hours) than the legacy MQ-9A platform. During an endurance flight in May 2017, GA-ASI says the MQ-9B remained airborne for more than 48 hours and landed with additional fuel remaining. The MQ-9B's manning requirements are also considerably less than the MQ-9A's.
An Auto Take-off and Landing Capability via a satellite (SATCOM) datalink enables pilots at the Main Operating Base to control the aircraft's landing, taxi and take-off at the Forward Operating Base (FOB). "This generates significant manpower and logistics savings as it eliminates the need to deploy antennas, Ground Control Stations and pilots to the FOB," says King.


A Multi-Mission Controller (MMC) capability, currently in testing, will enable one pilot to simultaneously control multiple MQ-9Bs during transit and routine ISR operations. The MMC forms part of GA-ASI's new Integrated Intelligence Center, which uses artificial intelligence and machine learning to automate intelligence analysis.
On ISR missions an operator can simply designate areas of interest for monitoring and receive automatic notifications when a person of interest leaves a building, for example. "Only once they've received the notification will they be prompted to look at the video," a GA-ASI spokesperson stated. "Instead of three people looking at the video feed, you only need one person." The Integrated Intelligence Center also features a System for Tactical Archival, Retrieval, and Exploitation (STARE). STARE's Common Operation Picture shows the location of ISR assets and what they are currently looking at. It also makes ISR data more easily 'discoverable' for image analysts. Information fields are automatically populated, which significantly reduces the time it takes to compile post-mission reports.
"The MQ-9B offers even greater flexibility with more payload capacity, all-weather/lightning capability, a Detect and Avoid (DAA) system and certification to operate in non-segregated airspace,"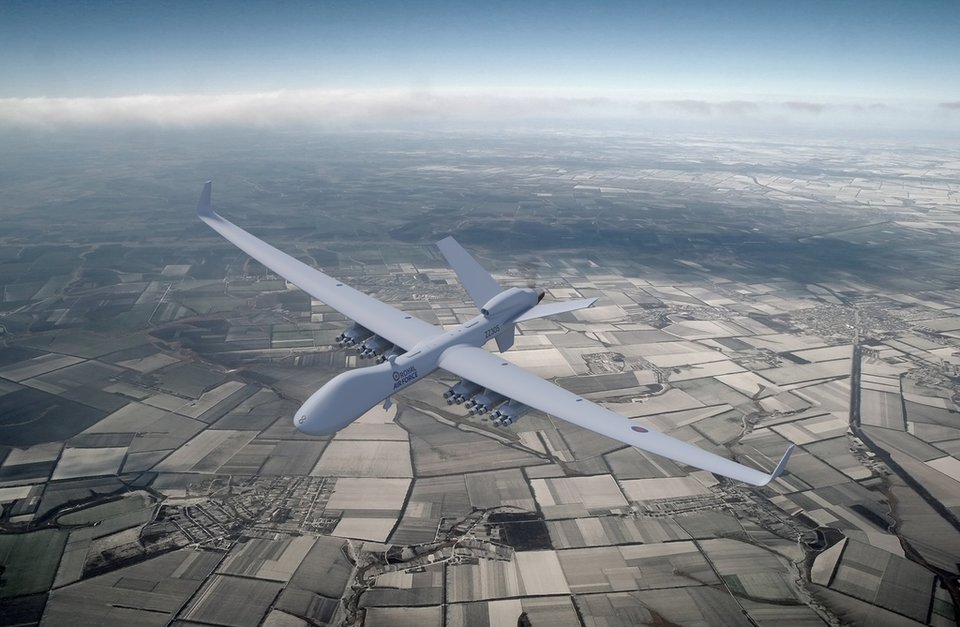 The RAF's Protector armed with Brimstone missiles (Photo courtesy of MBDA)

NEW EYES IN THE SKY
After more than 100,000 hours flying the MQ-9A Reaper in operations, the Royal Air Force is gearing up to welcome its replacement, the Protector, which will perform a wider range of missions, as well as being certified to fly in non-segregated UK civilian airspace.
By Anita Hawser