The Widest Range of Weapon-Mounted Lights
Switches It Up

SPONSORED STATEMENT BY STREAMLIGHT
Streamlight® Inc., a leading provider of high-performance lighting devices, offer a range of high-quality products built with precision and performance. Trusted all over the world, Streamlight is defined by their innovation, delivering effective, efficient, high performance lighting solutions. These feature the latest technology, unmatched performance, incredible value and durability that you can depend on.
In addition to increasing the output of four of its popular TLR® high lumen (HL) gun-mounted lights to 1,000 lumens, Streamlight have introduced rear switch options, high and low. The new exceptionally lightweight and compact TLR-7® A rail-mounted weapon light features ambidextrous on/off rear switches with low and high positions to suit user preference, and a rail clamp that attaches and detaches easily from the side of compact and full frame weapons.
Like the original TLR-7®, it is designed to maximise visibility and targeting capability in a variety of tactical applications. Featuring a powerful LED that delivers 500 lumens over a beam distance of 140 metres, it offers two lighting modes, LED only or LED strobe, each with a run time of 1.5 hours. Securely fitting to a broad range of weapons, the TLR-® 7 A also includes a safe off feature, locking it so it cannot be turned on accidentally.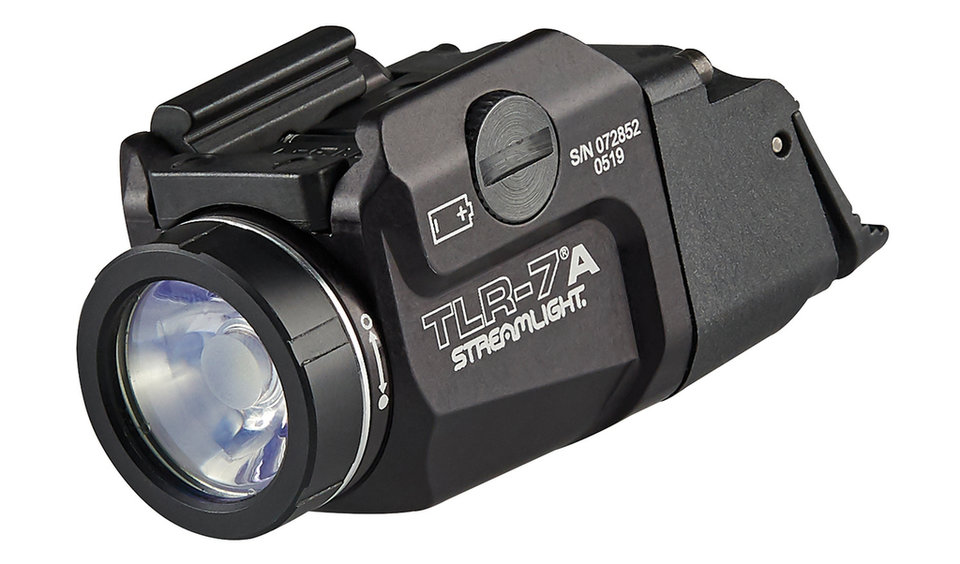 Complementary to the TLR-7® A qualities and ergonomic rear switch options, Streamlight have added the TLR-8® A and the TLR-8® A G to the line of weapon-mounted lights. Both lights deliver 500 lumens and feature a rail clamp that attaches and detaches easily from the side of a broad array of compact and full frame weapons.
The TLR-8® A offers a 640-660nm red laser to maximise visibility and long-range targeting capability, while the TLR-8® A G features a 510-520nm "Eye Safe" green laser to improve users' ability to focus on targets during daylight hours. Both lights can be deployed in Laser-Only mode to keep the gun on target and in LED-Only mode to provide bright, focused light, or in dual mode, which uses both light sources. The run time for both lights is 1.5 hours in LED-Only, LED and Laser, and strobe modes. In Laser-Only mode, the TLR-8® A provides a run time of 60 hours, while the TLR-8® A G delivers 11 hours.
All these models include a key kit with six interchangeable keys to securely fit each light to the broadest array of rails, are fabricated from 6000 series machined aircraft aluminum, feature impact-resistant construction and have been extensively live-fired tested.